Yosman Botero is a young Colombian artist living and working in Barcelona, Spain. He works in various mediums but will exhibit his breathtaking holographic images on glass plates for the first time in Germany at the Berlin based Gallery Nomad. In light of his upcoming show, Gallery Nomad has asked him to tell us more about his work, life and sources of inspiration.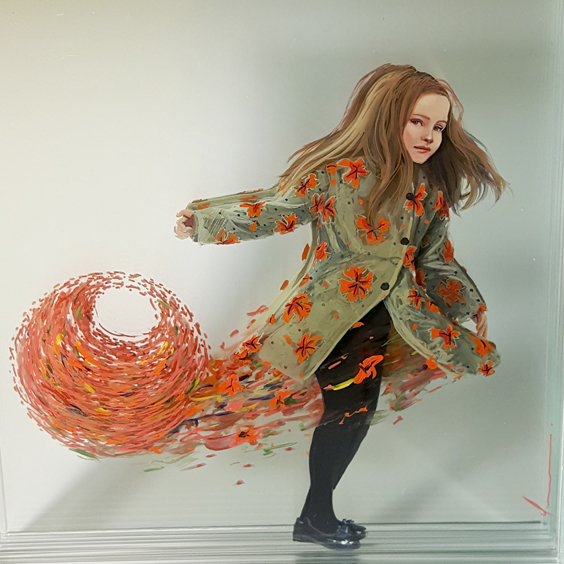 Nomad: When and why did you decide to become an artist?


Yosman Botero: Since I was a child, I have loved to draw. When I was younger, this passion for drawing caused a lot of trouble with my parents because I preferred drawing instead of school. Over time, I became more and more interested in art, but at the time I did not really considered studying art because in Cúcuta, Colombia, where I grew up, the university did not offer relevant courses.
After high school, I had a job that was very poorly paid, but many people knew I was drawing in my free time and I received private orders to paint portraits. It went very well and I was earning more with the commissions than with my day job. As a result, many people encouraged me to go to Medellín and study art, so I set it as my goal and began to save money. Although my parents disagreed with this decision at the time, I moved to the city and began my studies. My father said I would be back home within three months and regret everything. This was a key motivation for me during the time.

I put all my efforts into my studies and as a result received scholarships which covered a portion of my costs and I also accepted jobs which were offered by the university to students. 
In 2007, in the sixth semester, I won a prize for one of my installations, it was just the second time that I had created a spatial work. Winning the prize bolstered my self-confidence and finally convinced my parents of my talents. They are very happy now, though they do not always understand exactly what I am doing as an artist.


Nomad: What motivates your work and from where do you seek inspiration?
Yosman Botero: My main motivation is my love for art. I cannot imagine doing anything else than being an artist and I put a lot of effort into it. I work every day. I live in my studio and begin work each day very early. I have strict working hours because I believe discipline is the most important thing if you want to achieve something. And, I want to be the best in what I do.

I am inspired and influenced by both the physical world - the places I live, the cities I visit, the cinema, the news. My work is also influenced by my own internal emotions, particularly my fears. Each one of us has fears. By exploring the idea of imaginary monsters, I attempt to process the fears of people in my series "Monstrualia".
Global problems, such as migration, also influence my work. I am currently working on a new project "Derivas". It is a series of videos focusing on the poetics of the dysfunctional. This series aims to understand the underlying causes of migration such as the search for new chances.
Nomad: You are so young but have already a much defined style. Why have you decided to create three-dimensional images and which materials are you using in your pieces?
Yosman Botero:  I work with many techniques like drawing, painting, video and installation to name a few. The medium always depends on the subject that I am treating. For years, I have been working with glass panes, which I paint with acrylic. This technique has a higher level of difficulty and I feel more challenged. I am interested in glass as a material because the accumulation of layers creates a blurred or liquid effect.  In the series "Monstrualia", I use a technique that produces holographic images. Through multiple layers of painted glass, a three-dimensional image is produced and gives off a haunting effect; a recurring theme throughout all of my work. When working with installations, I use shadows and when drawing, I use disappearing threads to create a similar effect.  

Nomad: Why did you move from Columbia to Spain?
Yosman Botero: I came to Barcelona to pursue a master's degree and I have been there for a year. Since finishing my undergraduate studies, I have wanted to travel more of the world and travel to Europe in particular.  An exhibition in Moscow in 2013 and a scholarship for a project in Rio de Janeiro have helped fuel my wanderlust.

Nomad: Is Europe a culture shock for you?
Yosman Botero: Europe is very diverse and has much to offer, but the prevailing political and economic situations affect us all, and there is a general feeling of paranoia because of these crises.
That said, as a Colombian it was not difficult to integrate into Spanish culture.  In Spain, I face many of the same issues I faced in Colombia but can have a higher quality of life. 
Barcelona is an excellent jumping off point to travel the rest of Europe.  I have already visited many different countries.  Fortunately the old stigma of Colombian drug trafficking has disappeared. It seems that people have realized the warmth and friendliness of Colombian culture.  I am welcomed everywhere.

Nomad: You mentioned the theme of imaginary monsters as a concept you are exploring in your work, what are some of your imaginary monsters?
Yosman Botero: I believe all humans share a fear of not being able to do what we like or not achieving our individual goals. For me, the fear of not being able to work one day is something that is always present. That is why I work so much because I know that everything depends on oneself. I know where I want to go and also that it will take everything I have to get there. When I was studying, I gave drawing lessons for children in my spare time. During these classes I began to become interested in the concept of imaginary monsters and how these monsters shape our world, both for children and adults.  I believe that we act in accordance with our fears. 
Nomad: What are your plans for the future and where we can see your work?
Yosman Botero: At the moment I am focusing on my studies. The master's degree is the ideal way to rethink my work and to realize my ideas. It motivates me to find answers to my questions. What fascinates me the most is that I can restart the installation and video work. Not that I ever really stopped, but these are projects that require a longer reflection period. When I finish my master's degree in 2018, I will look for the possibility to get my Doctorate. If everything is going well, maybe even in Berlin. I have many plans and still a lot to. My next solo exhibition "Monstrualia" opens on March 10 in Gallery Nomad in Berlin and runs until March 29th.